And just like that we bid another year adieu, but first we must look back and see just how well we predicted luxury backyard trends for 2016. There was a pleasant mix of elegantly simple designs with splashes of ornate features like elaborate paver layouts, all-glass tile pools and the use of large, natural materials. Backyards also featured versatile, yet functional, outdoor structures and more modular poolscapes complete with geometric lines. Homeowners seemed to enjoy simplistic designs on a grand scale, with their backyards resembling gorgeous retreats perfect for relaxation and rejuvenation.
As we welcome the 2017 pool season, it's safe to say backyard design trends will resemble a lot of what we saw the past year, but with more of a focus on stylish comfort. When homeowners walk through their patio doors into their backyard, they want to be whisked away into a stylish backyard oasis that both meet their needs while having a purpose. The organic-feeling luxurious backyards of 2017 are sure to turn heads.
2016 Backyard of the Year

I am pleased announce the 2016 Backyard of the Year goes to Premier Paradise in Gilbert, AZ. This project encompasses every trend from the past year as if it were custom designed for Backyard Mamma. This luxurious backyard retreat features infinity edges and perimeter overflows with modern geometric lines and modular seating areas perfect for entertaining. The soft lighting throughout the project creates a welcoming, yet romantic, ambiance while you enjoy this personal paradise after dusk.  Whatever your guilty pleasure, this outdoor oasis has something for everyone and is truly sight to behold.
Premier Paradise, a Tributary Pools builder, has an extensive portfolio of their custom projects that can be found at http://premierparadise.net/our-projects/.  See for yourself how this backyard encompasses everything in our 2016 Luxury Backyard Design Trends article. It doesn't get much better than this!
2017 Color and Space Trends

The color trends in 2017 will resemble a variation of the pallet as last year, with beautiful hues of breezy light but warm tones in different shades of teal and aquamarine. Gray and its many variations still remains a popular choice among homeowners, creating a trendy, yet serene atmosphere. We will also see pops of complementary color in the form of bold reds and corals – a perfect way to help your favorite pieces of outdoor furniture or seating areas truly stand out.
[adrotate banner="9″]
The outdoor space as a whole will feature more modern and natural-looking poolscapes and designs. However, builders are really beginning to pick up on geometric lines and shapes, creating backyards that feature subsequent pool and lounging areas that create a larger, overall work of art while still maintaining their functionality. These modular backyards feature more than one focal point, whether it's a raised spa, "floating step" walkway, ethereal bridge or perimeter overflows.
2017 Hardscape and Lighting Trends

As more homeowners tend to invest in their backyards as a place they can escape to while still enjoying the comforts of home, you'll see multiple hardscape materials being used to define outdoor spaces. When mixing materials – like large tile inlayed with grass, or travertine mixed with marble – it creates a more regal aesthetic. These mixed media hardscapes create a warmth and beauty that cannot be matched.
Since 2017 is all about creating an organic space in the backyard, solar lighting options are definitely on trend. Not only are outdoor waterproof landscaping lighting options an environmentally-friendly option, the soft and gentle light they cast sets the mood as soon as the sun goes down. These solar lights work perfectly lining pavers to the pool or a stylish seating area, or they work wonderfully as accent lighting within the landscaping, highlighting a perfectly pruned shrub or mature tree.
2017 Shade and Structures

Gone are the days of the backyard just housing a pool. Homeowners are now creating outdoor retreats that feature gorgeous, yet functional cabanas and pergolas that are integrated into the home's design. This area allows homeowners to step outside and still feel like they are in an extension of their home. This cohesive aesthetic provides trendy looking protection from the elements so you can enjoy your outdoor space year-round.
[adrotate banner="9″]
And for those who want to incorporate a more romantic vibe into their luxurious backyard escape, beautiful canopy covers keep you covered in the sun. They are available in a range of colors and patterns to complement the rest of your backyard space.
2017 Fabrics and Accessories
Textiles and backyard accessories are one of the easiest ways to give your outdoor oasis the look of luxury. This year there's a focus on throw pillows and indoor/outdoor rugs that make your outdoor space an extension of your home. Get creative with your textiles when you mix and match patterns and bold colors.
Color outside the lines when it comes to accessorizing your luxurious space – incorporate warm and cozy umbrella and pergola lights, find the unique outdoor piece that can double as both part of the décor and function as storage for pool toys, outdoor candles, or even cozy throw blankets to enjoy on cool nights.
2017 Pools, Hot Tubs and Spas

Nothing brings more style to the backyard than today's top pool and spa trends. From custom handrails to using multiple building materials, gradient tiles and photo mosaic creations, you can create a completely custom look that truly stands out in the fine details. For a more obvious vision of indulgence, trending pools feature infinity edges, zero edges, perimeter overflows and sunken spaces. Some even have acrylic walls, perfect for those who enjoy being able to see every aspect of the poolscape. Tanning ledges are also popular choices this year and can be built out of gunite or fiberglass.
Custom spas and hot tubs are the perfect complement to a poolscape, and this year it's all about function. Swim Spas are great addition for the athlete who wants to work out in the privacy of their own home. And for those who just want a warm water soak? Why not do it in luxury with a glass tile spa complete with perimeter overflow or vanishing edge. Sunken spas are also still trending, much like last year, which make for an amazing space perfect for relaxation.
2017 Swimwear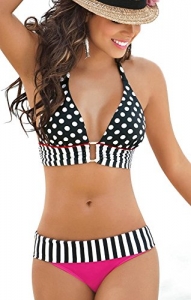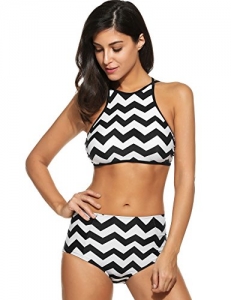 Don't forget about yourself when it comes to backyard trends. The only way to properly enjoy your luxurious backyard is by treating yourself to a new suit. Today's feminine suits include halter bikinis, as well as full-piece suits with side cut outs. Crochet suits are also making a comeback for those who enjoy a suit with some texture and style. While the tankini suit remains a popular choice, today's style features metallic materials and more cut outs.
2017 Sustainability and Kitchens
Dining al fresco has new meaning this year, as more and more homeowners are creating a sustainable backyard. Farm to table has new meaning since homeowners are including backyard gardens and hydroponic gardens into their outdoor design. At-home chicken coops are also gaining in popularity, a perfect addition for those who enjoy being a part of the entire sustainable process of food preparation.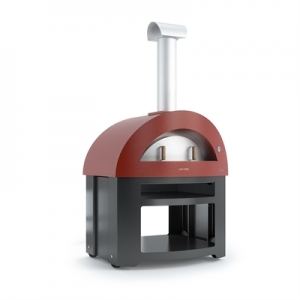 People can now gather their fresh food and make a part of their meal instantaneously when you have the perfect outdoor cooking area. While outdoor kitchens remain popular additions to any fully-functional backyard, it's all about finding the best grill or smoker that fits your needs. Today's trending models have many gourmet features, including multiple burners, dual functions like grilling and smoking and multiple heat sources (wood, charcoal and gas).
2017 Fire and Water Features

The fire and water feature trend continues in 2017, with many pool owners opting to combine the two together for a breathtaking ambiance at night. These complementary features turn a pool from the ordinary into the extraordinary by creating two different looks – a nighttime glow and a daytime visual of constantly moving water. Waterfall curtains are beautiful examples of how sheets of water create a gorgeous visual whether you're sitting poolside or inside the house looking out. Misting systems are also gaining momentum this year, and are perfect additions to backyards in warm temperatures.
Operating fire and water features has become simplified with technological advances, as well, this year. Many systems can be automated and allow users to operate there "extras" via their smart device wherever they are, whenever they want.
2017 Patio Furniture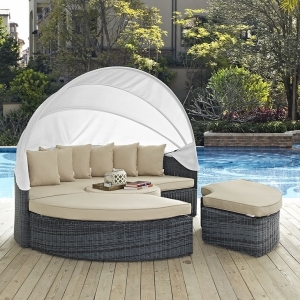 This year is all about function meeting style, and the patio furniture options really embrace this trend. Functionality is imperative when it comes to a backyard resort, and between outdoor daybeds, sectional daybeds, and hammock chairs, outfitting designated conversational areas of the backyard will be easy. Don't forget to let these pieces make a statement, though. Oversized cushions, overarching backing options and bold colors allow for pieces to stand out in an already elaborate backyard design. While bold definitely makes a statement, lighter shades of wicker are gaining in popularity and blend well with this year's color scheme.
[adrotate banner="9″]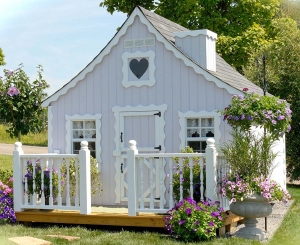 2017 For the Kids
Don't forget the kids when designing a backyard oasis. While they'll love slides, grottos and waterfalls, adding additional out-of-water options gives them more things to do outside. At-home splash pads are becoming increasingly popular, complete with falling buckets of water and in-floor jets that shoot water at just the right time. For the kids who don't always want to be wet, pre-fabricated playhouses and playsets are always a favorite for those with traditional tastes.
Whether you're designing a custom poolscape or are looking to renovate and update your existing one, incorporating a few, or all of 2017's top backyard design trends will help your pool stand out. By creating a functional, yet stylish outdoor oasis, you're setting yourself up for years of fun, entertainment and relaxation with family and friends.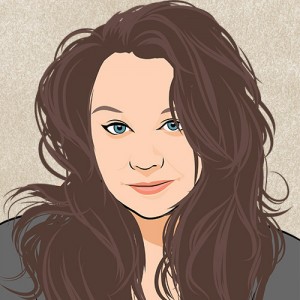 Luxury comes in every shape, size, style and color, so to learn how you can transform your own backyard from ordinary to extraordinary and to locate products and builders, contact Stacy Nelson from @BackyardMamma at (844) 368-4769 or email backyardmamma@gmail.com. Ms. Nelson has more than a decade of experience in the outdoor living and swimming pool industry and educates consumers and builders about backyard living design and products. View more at www.BackyardMamma.com.