Backyard Mamma is pleased to welcome Izzy Regan from Sydney Australia's Urban Exteriors as a guest blogger. Izzy has a lot of great ideas and tips for backyard living enthusiasts.
Transform your outdoor patio into the ultimate hangout spot and the talk of the town with these stylish patio designs ideas that help you get the most out of your backyard space.
1. GROW YOUR HERBS
Create a green space by growing your herbs in your outdoor patio. Put them in terracotta or wooden pots for that Aztec or country feel.
2. ADD SOME SHRUBS
Give your patio a face-lift and color by surrounding it with shrubs like azalea and bougainvillea.
3. TAKE COVER
Hide from the sun and create a secluded place with outdoor shades. Look for blinds that block the sun's UV rays.
4. FIREPLACE
Turn your patio into a cozy place by accentuating it with a fireplace perfect for cold nights and staying late outdoors.
5. RELAX IN THE HAMMOCK
Lounge in style on your patios with a rope or thin strings hammock. Whether you're catching up on your favorite book or taking a nap, a hammock is your best friend during warmer months.
6. SWING CHAIR
Share the space with your friends and family by hanging a wooden swing chair best for bonding and hanging out.
7. COLOR IT BLUE
Make your patios cool to the eyes by making it pop with the shade of blue. For tips, look for patio designs in magazines.
8. PLAIN WHITE
Achieve a clean and elegant look by covering your patio in white paint. If your patios have no shade, buy the outdoor variant.

9. STRING LIGHTS
Exude a carefree vibe by hanging weatherproof string lights perfect for hosting memorable outdoor dinners and parties.
10. ORIENTAL TOUCH
Illuminate your space with an oriental feel by opting for paper lantern lights in different colors.
11. FLOOR & TABLE LAMPS
Make your patios an outdoor living room with floor and table lamps. Add a hint of tropics with lamps made with wicker.
12. AZTEC IS THE WAY TO GO
Bring a touch of tribal into your patios with carpets and blinds fashioned after Aztec prints.
13. OUTDOOR RUGS
No shade? No problem. Accentuate your patios with weatherproof rugs. Look for patio designs on the internet for inspiration.
14. MEXICAN-IZE YOUR PATIOS
Create a festive place by complementing your patio with sofa and throw pillows in Mexican patterns.
15. EXOTIC BEAUTY
Add an exotic ambiance to your outdoor space with the rich and vibrant patterns and colors of Persian rugs.
[adrotate banner="9″]
16. MAKE YOUR CEILING AN ART PIECE
Make your covered patio stand out from your neighborhood by creating a mural on your ceiling.
17. TROPICAL CEILING FAN
Turn your ceiling into a statement with a tropical ceiling fan great for cooling your patio during hot days.
18. SOMETHING SMELLS FISHY
Transform your outdoor patios from bland to breathtaking by building a fish pond. Bring life to it by filling it with small fish and aquatic plants.
19. MOSAIC WALLS
Convert your outdoor patios into an art space with a mosaic wall. You can use reclaimed woods or tiles depending on the vibe you want to exude.
20. POTTED LEMON TREES
Line some potted lemon trees along your patios for that courtyard feel. Pick the dwarf varieties of the lemon trees to keep it small and manageable.
[adrotate banner="9″]
21. SHOWER IT WITH DRAPES
Make your deck private and cozy perfect for a date night by adding neutral or colorful drapes.
22. CREATE ZEN WITH BONSAI
If you're going for a calm and minimalist look, consider adding bonsai to your outdoor patios.
23. WICK RECLINERS
Give your patio a resort-like look by placing wick recliners best for getting a tan.
24. HANG FROM THE CHANDELIERS
Bring nature to your space with beautifully-crafted wrought iron chandeliers filled with small plants.
25. METAL ARTWORKS
Create an interesting deck with thousands of metal artwork designs. The good thing about them is that they can stand any weather.
26. PATIO CLOCKS
Never worry what time it is while you get lost lounging on your patios with outdoor wall clocks.
27. OUTDOOR ENTERTAINMENT
Take your entertainment from your living rooms to your patios with an outdoor television great for movie nights and binge watching your favorite TV series.
28. PUT SOME BOOK RACKS
Amplify the storage capacity of your patios by adding a bookshelf to store your books you want to read outdoors.
[adrotate banner="9″]
29. GARDEN GNOMES
Embellish your yard with magic and fantasy by decorating it with outdoor garden gnome figurines.
30. HARNESS THE LIGHT
Save up on electricity by using solar lights.
31. HAVE A DIP
Nothing beats the summer's heat than a dip in the pool. If you have a large front yard, consider adding a swimming pool best for lounging or hosting outdoor parties.
32. SHADE TREES
Do you want to enjoy the sun without getting burned? If you are not a fan of drapes or blinds, plant some shady trees instead. Look for trees that won't take over your yard like Amur Maple or Japanese Maple.
33. A FRENCH AFFAIR
Exude an English or French cottage vibe by walls covered in ivies. Hire a gardener if you have no idea how to achieve this.
34. CANOPIES
Cover your patio from all kinds of weather with outdoor canopies. Look for the best canopy that would complement your space on the internet.
35. ORIENTAL MAGIC
Make your yard a tropical haven with a set of furniture made of bamboo. Complete the look by accentuating your ceiling with bamboos too.
36. WATER FOUNTAINS
Make your outdoor space charming with water fountains. They are affordable and would make any space appealing.
37. CANDLELIGHT CHANDELIERS
Add character to your deck with vintage electric or candle chandeliers.
38. TIE DYED PILLOWS
Instantly add flair to your boring space with tie dyed throw pillows. You can even create them yourself.
[adrotate banner="9″]
39. DARK WOOD FURNITURE
Furnish your patios with timeless pieces of dark wood furniture. Hunt for a bargain from your local flea market.
40. EXPLODE WITH COLORS
Punch some colors to your patio with different kinds of throw pillows in colorful and vibrant designs.
41. GRANDFATHER'S CLOCK
Create a classic oasis with a grandfather's clock on your patio. Available in many designs, this clock will turn your space into a classical focal point.
42. OUTDOOR BAR
Perfect for entertaining guests during parties, outdoor bars is a must-have on your patios.
43. EARTHY COLORS
Add some subtle glamour into your deck by putting pieces of furniture covered in gray, tan or brown fabric.
[adrotate banner="9″]
44. NATURE HAVEN
Turn your patios into the ultimate nature spot by having shrubberies and small plants.
45. MAGIC CARPET RIDE
Enhance the mood and add style to your patios with outdoor carpets. Choose from varying designs from your local housewares store.
46. ADD A BARBECUE PIT
Keep the mess out of your house with an outdoor barbecue grill. Invest in a good grill that will last for many years.
47. ART SPACE
Hang some of your favorite paintings on your patios to punctuate and add some life to the space.
48. PUT A LONG COMFY BENCH
Your outdoor patio should be the perfect spot for relaxing after a hard day's work. A long bench with a comfortable cushion and lots of throw pillows would surely do the trick.
49. A PERFECT DINING EXPERIENCE
Bring some romance to your deck by punctuating it with dining tables and chairs. If your patio has no shade, consider buying tables and chairs made of plastic. Add candle lights on the center of the table for your date nights.
50. READER'S NOOK
Just like your living room, it's best to have magazines on your patios while your guests or friends wait for you or when they want to catch up on the latest styles or Hollywood gossips.
51. UP YOUR CHAIR GAME
Furniture made from rattan or wicker are just the ideal pieces to make your space pop out while adding a casual feel to your patios.
52. SCREEN THE PORCH
Putting screens around your porch provides a comfortable place that is free of bugs or mosquitoes.
53. RED CHAIR
Make a focal point and a statement on your patio by putting a red chair on the corner.

54. PLASTIC CHAIRS
No-fuss and low maintenance plastic chairs are perfect for homeowners who want a durable sitting set without sacrificing comfort.
55. COFFEE TABLE OUT OF A RECLAIMED WINE BARREL
Create a haven for your morning and afternoon coffee with a coffee table made out of reclaimed wine barrel.
56. METAL FOLDING CHAIRS
Build the perfect outdoor retreat with colorful metal folding chairs that you can easily fold when not in use.
57. MOONBATHING
Take long and luxurious baths outdoor with a hot tub. Outdoor hot tubs come in many sizes. Make sure you choose the right size for your patio.
58. BE PROFESSIONAL
While it is tempting to do your own patio designs, hiring a builder/landscaper would be a smart choice especially if you have no idea where to start.
59. NEEDLEWORKS
Show your creativity by hanging your cross stitch projects on your patio walls. Add some vintage vibe to it by framing it in rusted and old frames.
60. USE RECLAIMED WOOD
Who says decorating your patios need to be expensive? If budget is an issue, look for furniture made from reclaimed wood. They look beautiful and affordable at the same time.
61. MIRROR, MIRROR ON THE WALL
Amplify your patio's function and add a sense of grandeur with wrought iron mirrors or those in wooden frames.
62. WHAT'S IN THE FRIDGE?
Cool down during summer with an outdoor fridge perfect for storing your favorite sodas and beers.

63. LIGHT IT UP
Add a soft glow to your patios by embellishing it with scented candles.
64. MAKE AN ENTRANCE
Arch entrances garnished with flowers leading to your patio is the perfect welcome for your guests and friends.
65. THROW BLANKETS
Enjoy the outdoors even when it's cold with throw blankets in designs that complement the overall look of your furniture.
66. KEEP MUM
Keep it low key and classy by painting your patios with one color only and accentuating it with furniture in subtle hues.
[adrotate banner="9″]
67. CARNIVAL OF COLORS
Add a splash of colors to your deck with sofas and throw pillows that sport fun patterns.
68. BRING THE TROPICS TO YOUR HOME
Make your space a tropical paradise by surrounding it with plants like agave, bamboo, and banana.
69. OUTDOOR SCULPTURES
Show your love for arts with outdoor sculptures made out of resin, stone, or metal.
 70. LOVE BIRDS
Outdoor patios and birds go hand-in-hand. Birds will make a fine addition to your outdoor garden.
71. EAT YOUR VEGGIES
Add a bit of vegetation to your patios by planting climbing vegetables on your pergolas like beans, squashes, and cucumbers.
72. COVER UP
Aside from the fact that it gives you shade, a nice big umbrella will give your patios a nice and courtyard feel to it–best for having coffee with your friends.
73. POTTED CACTUS
Potted cactus's are popular these days and rightfully so because they add life and style to any space.
74. HANGING GARDEN
Climbing flowers create instant statement to any patio. Create a wistful and dreamy space by planting roses or wisteria on your garden arches or pergolas.
75. LIVE IT UP
Take your favorite music outdoor by installing outdoor speakers. Throw the best house party of the summer by setting up a DJ's booth.
These are just 70+ ways to make your patio look stunning. There are certainly more ways to make it look unique and charming. There's no limit to patio designs if you just use your imagination. So go get it done and make your patio the envy of your neighbors.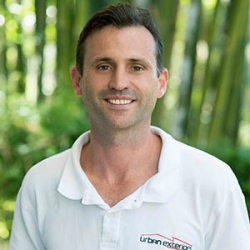 Izzy Regan is the Director and Design Consultant at Urban Exteriors, a Sydney, Australia based company specializing in landscaping and designing as well as building patios, pergolas, sunrooms, and decks. Izzy combines his construction experience and sales background in taking a leading role in the company. He holds a Diploma of Construction and certificates in business sales and property services. Izzy has been involved in the family business for 20 years.
Urban Exteriors designs and builds outdoor spaces such as patios, pergolas, sunrooms, and decks. It is a family run business based in Sydney with over 38 year's experience. Urban Exteriors are licensed builders and offer premium quality products and services that come with a 10 year guarantee. They are committed to providing excellent and friendly service to all of their clients.
Visit their website at www.urbanexteriors.com.au